This blog has been SO neglected.. it's just hard to keep up with it because I've been trying to balance out so many things at once.
My life has changed 180 degrees since the last time I've posted.. I almost feel like I'm a completely different person now.. :[
1. The biggest and hardest change was my family moving back to Taiwan.
We've been packing for weeks now, and they finally officially left last Monday afternoon (8.04) It didn't really hit me until later.. but saying goodbye to them was like saying goodbye to part of my life that I won't be getting back. After dropping them off at the airport, I listened to some songs from wayyy back when we'd take roadtrips and stuff.. and it just hit me how we'll never really be like that again :( Now they're 5000 miles away, adjusting to their new life while I'm here adjusting to mine.
Our house the night before they were leaving.. everything is still a mess.
Last dinner together here at Shik Do Rak (korean bbq.. kinda) SO good :]
2. My boyfriend stayed with me the week I had the house to myself (before the new people moved in).
We had a great week, but we definitely hit a low point because I was always gone for school and work.. and he had to be left behind with no one in Irvine to hang out with. I also didn't have a tv
or
internet, so that also sucked. Other than that, we had a lot of fun. We saw What Happens in Vegas... & I absolutelyyy LOVE it. Soo cute-- my definition of a perfect movie!! Hahaa I'm a sucker for chick flicks fsho :] Too bad I don't have pics from that week yet because they are still on his camera and I forgot to upload them when he left :(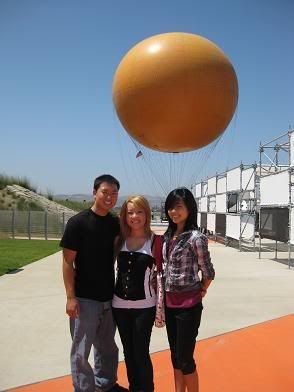 Me, my boyfriend, and my sister went on a fakey-hot air balloon ride one morning haha. It was fun even tho kinda pointless lol. Love them<33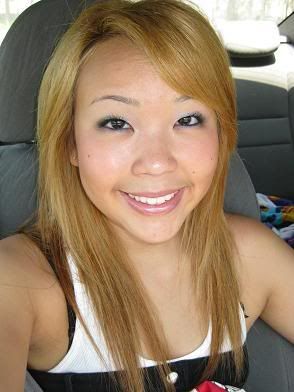 My FOTD
EOTD.. grey smokey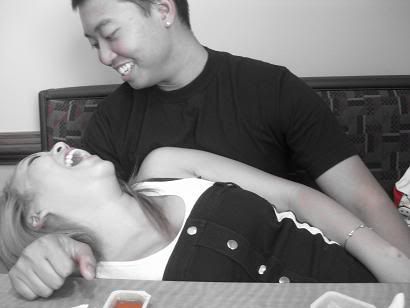 Me and my boyfriend being silly (as always) at Chick-Fil-A
3. My mom dropped 5000 bucks to get our floor redone.
It is now a dark chocolate brown, instead of the light brown before. It's really pretty.. but then we found out that any water on it will make it bubble up permanently. So inconvenient for the kitchen because water is guaranteed to get on the floor SOMEtime in the kitchen.. Oh well, we're dealing with it. It took them 4 days to completely finish.. during which me and my boyfriend came home to an eerie, empty house with no floors but a bunch of nails and screws on random pieces of wood. So creeepy.. :/ Pictures are also unloaded on his cammm.. :(
4. My mom's friends officially moved into my house on Friday.
They are renting the house from us.. All the furniture is like different and rearranged from how my mom did it. It's not bad.. but the first morning I walked out of my new downstairs-guest-room and saw
their
family portrait on the fireplace, I freaked out.. then got a little sad. That used to be our picture hanging there. But it's almost been a week and I'm getting used to living with them. They are quiet and very clean.. so when you walk into my room it's like a whole different world. Shit thrown all over the room.. but oh well, that's me!
5. I'm going to Taiwan on Saturday and I'll be staying until Sept. 19!!
Yay.. so excited :] I'll get to see my family, our new house in Taiwan, my extended family, and everything else. Plus, I'll get to eat good food.. mm :] I'll for sure post up those pictures heheee. My boyfriend's meeting me in Taiwan on Aug. 30!! It's his first time in Asia and I'll get to take him around Taipei showing him everything.. I seriously can't wait. I already took work off and everythingg.. Yayy no more Mimi's!! Just 1 more day of summer school, then I'll be packing for my trip!!!! :]
6. I've been seeing my friends more
now that my family left and I have no obligations to be home.. We just hang out doing random stuff. They like to hang out in my new room cuz they think it's so comfortable and they're in love with my huge hello kitty haha :] I love that thing.. I'll get a picture of it when my boyfriends comes with his camera again hehee. Anyways, it's been great getting to see them again. I felt so out of the loop because we always had conflicting schedules and whatnot.
Here's some pics from a party a couple weeks ago..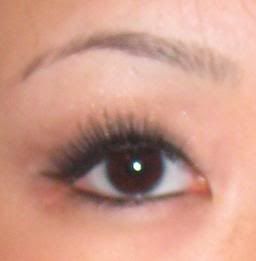 EOTN. Smokyyy.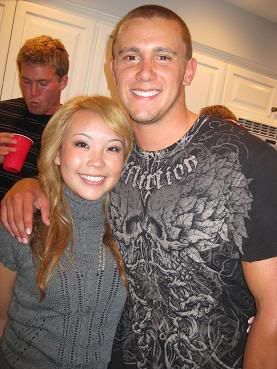 Me and Jeff (owner of the housee) I miss this kid.. This is like my second time seeing him all summer.. What the hell?
My loves (minus Manu, the guy popping in at the bottom.. hahaha)
Some of the girls<33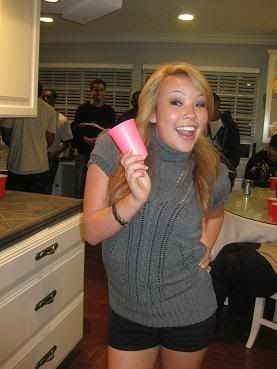 I found a pink cup!! I'm in lovee!
7. I got to see one of my best friends from college who lives in NorCal.
Christina, her boyfriend, her bestfriend, and her bestfriend's boyfriend all came down for a roadtrip in SoCal and I let her stay at my housee. It was soo great seeing her again (the last time being 7.01) and we definitely got to catch up on life. I didn't really get to hang out with them though, because they had their own schedules and I was busy with school & work (what's new?) But we did get to go to Elephant Bar one night with everyone.. that was fun :] Next time I see her will be when school starts.. aww I miss her already!
All of us at Elephant Bar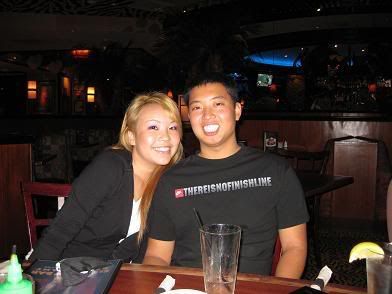 Me and my silly babycakes hehee <33
8.
MAKEUP.
Soo, I finally got my Coastal Scents Ultra Shimmer 88 Eyeshadow Palette as a belated birthday gift from my boyfriend!! I'm sure I don't have to post a pic because everyone knows what it looks like haha. I've been doing so many great EOTD's with the palette, but I don't have a camera so I didn't get to document any of it :( So saddd.. but I'll recreate those looks sometime when I get access to a camera again! I also went shopping for the first time in FOREVER 2 days ago.. and I'm super broke right now but I still got a birthday gift for my boyfriend, a super cute pair of Steve Madden wedges (black :]), a white summer dress, and 2 nail polishes from ULTA. I reallyyyy like their nail polishes-- the colors are very opaque with just 2 layers, they stay on pretty well, and are just gorgeous in general. And the best part? They're 2 for $5! Yayyy for great bargains for brrrrokeasses like me!! :D
EOTD from a randommm morning.. I like the purple eyeliner I used on the bottom :] I feel like it made my eyes POP! Haha..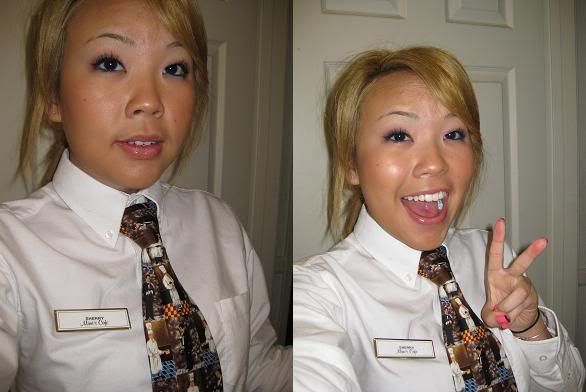 Ready to go to workkk at Mimi's Cafe.. I love the bronzer (Smashbox i think?)
Anyways, that's just a very brief (not really) overture of my life in the past 3 weeks? Wow, I have seriously neglected this blog!!