I never get to use my boyfriend's camera anymoree because he always has it.. but there are still times when I snag it back and use it to my vain advantages :)
The first look is a bright-ish purple look that I adore very much. I like the color purple on me a lot, because it matches my skin tone and most of my clothes, too, so it's very versatile on me.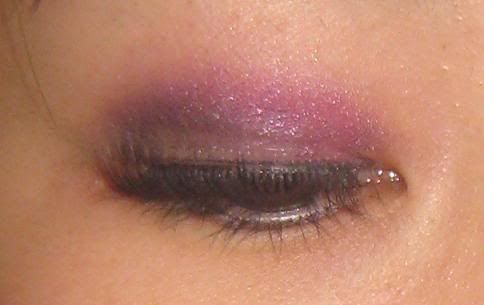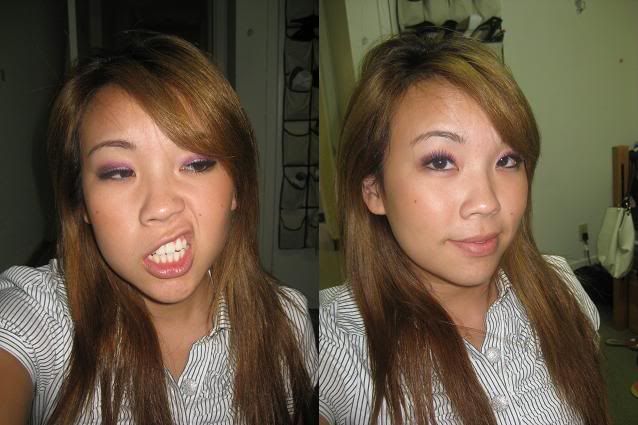 Tada!! I love it<3
These pics were taken well into the day, so my eyeliner was already coming off my waterline and whatnot. But the eyeshadow stayed put because of the magic of UDPP so there you go!
And my second look is a bright turquoise look. These pics were taken quite late as well, so it is a little smudgey.. but oh well.

And it kinda matches my cupcake shirt hehe :]
Now, onto the non-makeup part of my post, I am IN PAIN today. We had an exchange last night with FIJI and we went rollerskating!! Let's just say I can't rollerskate sober.. so I have no clue what made me think I could do it wasted.. Anyways, I fell pretty damn hard a couple times, and the pain sunkkkk in this morning. I woke up and my fucking hip would not move I was seriously like HOLY FUCK. WHAT IS THIS?! And the worst part-- it's not bruised on the outside so I'm worried that somethin's goin on inside that I can't see... maybe a fracture? OUCH! And my leg and toe hurt too.. so YEAH. Never am I doing dangerous activities under the influence ever again!
I want to work out now cuz I feel fat :[ Haha k bye! Until next time<3